Posted June 14, 2022
The Tank 8-Gal 225 PSI High-Capacity Portable Air Compressor
Metabo HPT introduced The Tank 8-Gal portable 225 PSI High Capacity Trolley-Style Air Compressor (model EC1315S).
---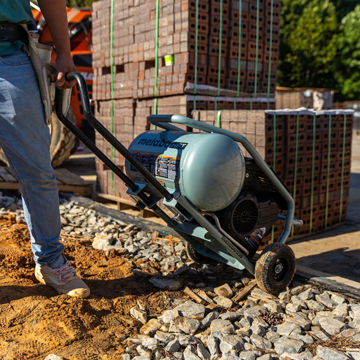 With an industry leading 8-Gallon capacity and 225 PSI, this high-capacity portable compressor packs 38% more air and 40% more pressure* into a compact body that is easy to transport with rubber tires and a retractable metal pull handle. It is engineered with the power to run a framing, roofing, siding or finish crew which speeds up production and saves on a more affordable option than a heavy gas compressor. The Tank 8-Gal offers serious professionals a next level compressor with ultimate versatility and mobility.
The Tank 8-Gal has the capacity and PSI to simultaneously run (3) framing nailers, (4) siding nailers or (4) roofing nailers at the same rate of production as a traditional gas compressor. Finish crews can even run (5) 15-Ga or 16-Ga finish nailers or (6) 18-Ga brad nailers. With 5CFM @ 90PSI, The Tank delivers 38% more air flow*, making it easy to run multiple nailers at the same time with faster recovery.
The large capacity 8-gallon tank holds 40% more air* so no worries about a pressure starved tool on the job. Productivity is maximized as The Tank 8-Gal can consistently drive nails flush without delay. The oil-free design delivers high durability with low maintenance- ready to plug and play right out of the box. At only 76 dB, it's quieter for a safer work environment. And with a cord length of 6 feet, it's convenient to reach most outlets.
Lightweight compared to gas wheelbarrow compressors at only 93 lbs., The Tank 8-Gal is equipped with rubber tires to smoothly roll over rough terrain with a retractable style pull handle. Save storage space as it can rest upright to tuck out of the way when not in use. The solid steel, "roll cage" handle makes it easier to lift, and protects the gauges against damage when in the back of the truck or tool trailer.