Posted October 4, 2022
Metabo HPT 18V MultiVolt Cordless 5" Orbital Sander
Metabo HPT launched the new 18V MultiVolt Cordless 5" Random Orbital Sander (model SV1813DAQ4) that offers complete freedom to tackle woodworking jobs on the go.
---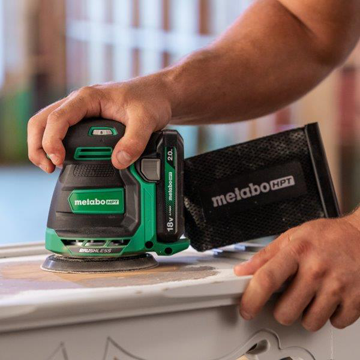 This sander has the best sanding performance and dust collection rate in its class. It has all the power, ergonomics and features the demanding professional needs. It's part of the expanding MultiVolt System of cordless power tools from Metabo HPT. GO compact and lightweight for all applications with an 18V battery or GO extreme with the unique 18V/36V MultiVolt battery to supercharge your runtime for up to 8.0Ah* per charge. (MSRP $119)
This cordless sander is convenient to grab and go. No cord means having the complete freedom to take sanding work anywhere. The variable speed dial ranges from 7,000 – 11,000 RPM to achieve super smooth finishes. Choose between 6 speed settings to match the sanding level to the application. This cordless sander reaches top-level sanding amounts per charge for cordless orbital sanders. The dust bag collects the most dust in its class and can be applied and removed with just one hand for convenience. Also, keep dust to a minimum with the two dust collection adapters (1-1/2" and 1-3/4") that are included to hook up to a vacuum system for dust management. The dust sealed power switch adds to the longevity and durability of the sander.
The efficient brushless motor increases runtime and prolongs the tool's life. An electric brake feature quickly stops the motor so the sander can be set down without "wandering" which can protect the workpiece and increase productivity. Ideal for sanding on wood and metal, this cordless sander is a high-performance tool for the remodeler, finish carpenter, flooring installer and all woodworkers. With a 5" round sanding pad, paper changes are fast and easy thanks to the quick hook and loop system. It features an ergonomic rubber grip, a one-handed power/trigger system, and a handy ambidextrous base that allows the user to operate the sander in a range of holding positions for maximum comfort and control. At only 2.6 lbs. with dust bag, it's easy to maneuver and reduces user fatigue.