Posted June 18, 2019
Milwaukee Rear Handle Circ Saw
Milwaukee Tool introduced the M18 FUEL 7-1/4" Rear Handle Circular Saw.
---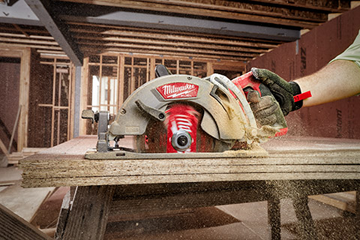 The new saw generates the power of a 15 amp corded saw and also cuts faster than the leading corded units available in the industry. It also features the most run-time of any cordless rear handle circular saw, capable of making up to 570 cuts in 2x4 per charge, the company said.
The new M18 FUEL 7-1/4" Rear Handle Circular Saw combines three exclusive innovations – the POWERSTATE brushless motor, REDLITHIUM battery pack, and REDLINK PLUS intelligence. However, to deliver the first 18V rear handle circular saw that generates the power of 15amp corded, Milwaukee reengineered these cordless components to deliver the very best performance catered to this tool and its applications.
The brand-new POWERSTATE Brushless Motor delivers 5,800 RPM to rip through tough applications without bogging down. A redesigned REDLINK PLUS Intelligence package ensures maximum performance of the saw under load and prevents against overload and overheat.
When equipped with Milwaukee's new M18 REDLITHIUM HIGH OUTPUT HD12.0 Battery, the saw can power through up to 570 cuts on just one charge, eliminating the hassle of cords or constant switching-out of multiple battery packs, while exceeding the performance of higher voltage solutions in the industry. The new HIGH OUTPUT HD12.0 Battery provides 50 percent more power, runs 50 percent cooler, and delivers 33 percent more run-time than the M18 REDLITHIUM HD9.0 Battery. In conjunction with REDLINK PLUS Intelligence and the POWERSTATE Brushless Motor, the HIGH OUTPUT Battery allows users to push the saw hard and work all day – delivering more work-per-charge than any other professional power tool system.
The M18 FUEL 7-1/4" Rear Handle Circular Saw features a cast magnesium construction to reduce the weight of the tool without sacrificing the legendary durability Milwaukee has long been known for. In addition, it boasts numerous advantages over corded saws in its class including an electric brake to quickly stop the blade after a cut, as well as gears that don't require oiling.