Milwaukee Hole Dozer
Milwaukee Tool introduced the new Milwaukee Hole Dozer bi-metal hole saw.
---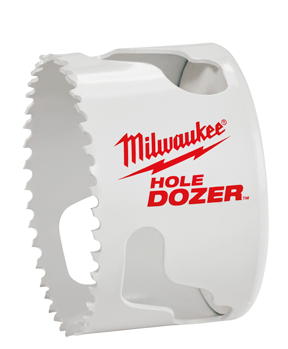 Inspired by its namesake the bulldozer, the company says the Hole Dozer is the most durable hole saw on the market, built to withstand the most punishing applications. Equipped with the first ever lifetime warranty against tooth breaks, this hole saw brings unmatched durability and increased productivity to users across every trade.
"Bi-metal hole saws are unique, as they are a trusted hole making solution across a broad range of users. These users demand bi-metal hole saws that can cut through a breadth of materials for many different applications" said Ryan Rudzinski, Product Manager for Milwaukee Tool. "Resulting from extensive jobsite research, the Milwaukee Hole Dozer delivers where all other hole saws have not. We were able to bring a fresh perspective to the category through a focus on the three main user needs when it comes to bi-metal hole saws: durability, life and plug removal."
Durability is critical to get through a range of both soft and hard materials that come in a variety of thicknesses, and accommodate different user drilling techniques. Teeth need to stay on a hole saw while cutting in any of these materials, allowing the user to complete each job. The Hole Dozer features Rip Guard, which Milwaukee calls the strongest tooth form in the industry, backed by the Rip Guard Limited Lifetime Tooth Break Warranty— a first for the hole saw industry.
Each tooth is built with more steel behind the cutting edge for added strength. The added tooth strength along with 8% cobalt give added life to the teeth, allowing for increased productivity on the jobsite, as well as continued hole quality.
For cuts that create plugs of material that become lodged in the hole saw, plug access can mean the difference between a quick cut and a frustrating loss of time. The Hole Dozer includes Plug Jack, an all access slot design that allows full access during plug removal. The Plug Jack gives access lower into the cup for thick material and higher towards the teeth for thin material. With multiple positions to apply leverage and better plug access, Plug Jack increases productivity and eliminates wasted downtime between holes