Milwaukee Inkzall Jobsite Markers
Milwaukee Tool Corporation introduced Inkzall Jobsite Markers, a new line of writing tools designed and optimized for jobsite use.
---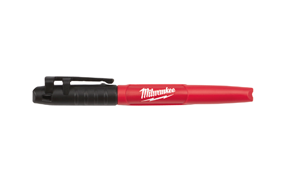 Featuring clog resistant tips and aptly named Inkzall for their ability to write through dusty, wet or oily surfaces, the new line will include fine and medium point permanent markers, as well as a stylus/marker combination tool that was designed for use with gloves on touch devices such as iPads and iPhones.
"Most professionals have a permanent marker with them at all times, but the options available today were simply not designed for the materials and rough conditions on a jobsite," says Bobby Shaw, Group Product Manager for Milwaukee Tool Corporation. "The number one complaint is that competitive marker tips do not keep their shape and easily "mushroom". The new Milwaukee Inkzall markers were specifically designed to alleviate this problem with durable tips that hold up to use on rough surfaces such as OSB, cinderblock and concrete."
For added user convenience, the markers were optimized with a proprietary ink for faster drying times to reduce smearing markings, without drying out quickly when the cap is left off. Complete with a built-in hard hat clip for easy storage and access, all Milwaukee Inkzall solutions were designed from the ground up with the professional tradesman in mind.
The new Inkzall products will launch in February 2014.