Posted January 24, 2018
Milwaukee Dust Trap drilling shroud
Milwaukee Tool introduced the industry's first OSHA compliance solution that doesn't require the use of a vacuum – the Milwaukee SDS Plus DUST TRAP Drilling Shroud.
---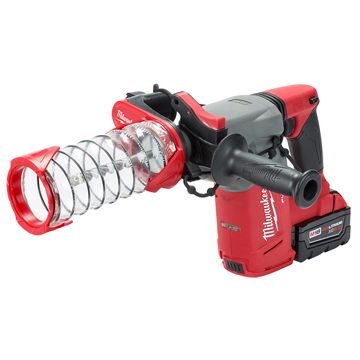 Ideal for overhead drilling applications, and with a universal fit to work with all SDS Plus rotary hammers, the Dust Trap is an OSHA objective data compliance solution that doesn't require the use of a vacuum. The accessory is also OSHA Table 1 compliant when used in conjunction with a proper dust extractor.
"As employers continue to equip themselves with the accessories needed to be compliant, it can be difficult to quickly and efficiently ensure full compliance amid the high costs of many solutions and the limited availability of cordless options that offer a universal fit," said Iris Horn, product manager for Milwaukee Tool. "The Milwaukee SDS Plus Dust Trap Drilling Shroud is the answer to these frustrations. A cost-effective and completely universal accessory, the Dust Trap offers an efficient and flexible way for users to adjust to the daily demands of the jobsite while remaining compliant."
It is built with a clear sleeve which provides visibility when lining up the hole and during the drilling application. Once attached to the front of the rotary hammer, it keeps dust contained throughout the duration of the drilling process. Afterwards the sleeve can be emptied, and the entire unit easily collapses and locks for storage. The compact, collapsible design is ideal for hard-to-reach places, providing superior productivity to the user.
The universal fit of the tool allows it to work with all SDS Plus rotary hammer brands and styles and all SDS Plus drill bits up to 8 inches in length, including stop bits and other anchor installation tools.