Posted June 25, 2018
Milwaukee slim profile ratchet and wrench socket sets
Milwaukee Tool introduced ratchet & socket sets engineered for better access in tight spaces and maximum strength.
---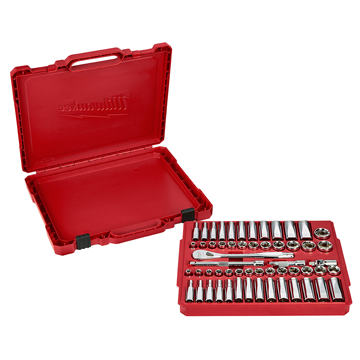 Each of the new sets features a slim profile 90-tooth ratchet and wrench-compatible sockets uniquely designed with four parallel flats to deter rolling.
Whereas most ratchets are equipped with 72 teeth, the ratchet in Milwaukee's new Ratchet & Socket Sets is designed with 90 teeth for 4° of arc swing. This ratchet also has a slim profile and flush directional lever which allow it to conveniently access the most hard-to-reach applications. Each wrench-compatible socket features a unique design with four parallel flats to deter rolling, and geometry optimized to reduce rounding and stripping of nuts or bolts. All Ratchet & Socket Sets are constructed with an all-chrome finish making them easier to clean and giving them a sleeker look.
Because socket sizes can often be hard to see, labels are engraved on two of the flats to enable easier identification and readability from multiple angles. For added convenience, each kit comes in a carrying case for ultimate portability. Within this case is a removable tray, perfectly designed to be stored long-term in a steel storage chest, such as any of Milwaukee's popular steel storage units. The case or tray storage options give users the versatility to easily store the sets both on the jobsite and in the garage. All sets also include accessories such as 3" and 6" extensions so users have everything they need to get the job done.