Posted July 3, 2018
PACKOUT Modular Storage Systems
The new PACKOUT Low-Profile Organizer and Compact Low-Profile Organizer from Milwaukee are half the height of the current PACKOUT Organizers with the same impact resistant body.
---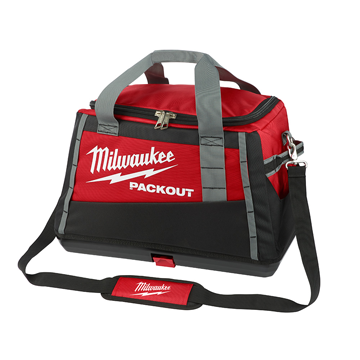 Each organizer has removeable bin dividers and no-travel bin seals to keep products from shifting around. In addition, the organizers are IP65 rated to keep water and jobsite debris out.
The new 15-inch and 20-inch PACKOUT Tool Bags un-zip to reveal large open space for tools, and have cushioned shoulder straps, top handles, and side handles for flexible carry. Each is constructed of tear resistant 1680D ballistic material and have an impact resistant polymer base are up to five times more durable than other bases, protecting contents from water, abrasion and impact.
Just like all PACKOUT tool boxes, organizers, and totes, these new additions feature an intuitive and quick attachment mechanism which gives users the freedom to stack and lock them in different configurations to best suit their needs.
With the addition of the new Low-Profile Organizers and Tool Bags, Milwaukee's PACKOUT Modular Storage System now has 12 different pieces for users to choose from to build out their custom storage solution.