Milwaukee HollowCore nut drivers
HollowCore Magnetic Nut Drivers from Milwaukee Tool feature a new thread-thru design.
---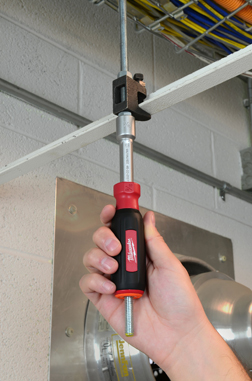 The new tools can fasten at an unlimited depth in both threaded rod and long bolt applications, while remaining secure on the application material with a powerful magnetic driver head.
"Working side by side with users on the jobsite, we found that professional tradesmen were often modifying their nut drivers to work in long threaded rod applications by cutting off the back end and drilling out the core. This gave them the flexibility to perform applications such as running a 9/16" nut infinitely up a 3/8" diameter threaded rod for hanging uni-strut," says Ryan D. Schwoegler, product manager for Milwaukee Tool Corp. "Milwaukee's understanding of our core user drives innovation like HollowCore. Our dedication to providing improved user solutions and game-changing designs will continue to pace our hand tool line."
In addition, the magnetic driver head features a universal design, delivering the ability to not only fit 4X more fasteners including Square, 12 point, 8 Point and HEX, but the ability to remove rusted and stripped bolts as well.
The drivers also feature wrench-ready hex steel shanks that are forged and chrome plated for maximum durability and additional leverage. For added user convenience, multiple ID markings allow for quick tool identification on the jobsite.
7PC Magnetic HollowCore SAE Nut Driver Set (48-22-2507) Includes:
9/16" HollowCore Magnetic Nut Driver
1/2" HollowCore Magnetic Nut Driver
7/16" HollowCore Magnetic Nut Driver
3/8" HollowCore Magnetic Nut Driver
11/32" HollowCore Magnetic Nut Driver
5/16" HollowCore Magnetic Nut Driver
1/4" HollowCore Magnetic Nut Driver
7PC Magnetic HollowCore Metric Nut Driver Set (48-22-2517) Includes:
13mm HollowCore Magnetic Nut Driver
10mm HollowCore Magnetic Nut Driver
8mm HollowCore Magnetic Nut Driver
7mm HollowCore Magnetic Nut Driver
6mm HollowCore Magnetic Nut Driver
5.5mm HollowCore Magnetic Nut Driver
5mm HollowCore Magnetic Nut Driver