Posted September 21, 2022
Milwaukee M18 pruning saw
Milwaukee Tool introduced the M18 FUEL HATCHET 8" Pruning Saw.
---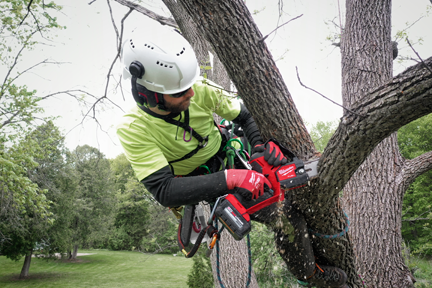 The HATCHET delivers increased access and control, with the power to cut hardwoods, and is the fastest cutting pruning saw.
"Following the success of our M12 FUEL HATCHET 6" Pruning Saw, which offered solutions for pruning in the tightest applications, we set out to deliver those benefits using the M18™ battery system, meeting the needs of users who had to tackle more demanding pruning applications," said Tony Buxton, Group Product Manager for Milwaukee Tool. "Many industry professionals are forced to compromise between power and size in tighter, hard to access applications. The new M18 FUEL HATCHET 8" Pruning Saw delivers the performance required by a professional arborist and landscaper without compromise."
Weighing less than 5lbs without a battery and featuring a compact design, the M18 FUEL HATCHET offers increased access and control in tight spaces compared to full-size chainsaw solutions. The saw's advanced ergonomics and optimized design increases control and maneuverability in application to revolutionize the way users get the job done.
The POWERSTATE Brushless Motor delivers the power to cut through hardwoods without bogging down to complete demanding applications. M18 FUEL technology allows users to cut faster than their current preferred solution of 25cc gas pruning saws, driving efficiency and productivity on the job. The advanced electronic package enables the saw to reach full throttle in under 1 second with a single trigger pull, eliminating the hassle of pull-starting a gas saw in aerial cutting applications. The M18 FUEL HATCHET also eliminates common gas frustrations such as loud noise, emissions, engine maintenance and mixing gas and oil.