Posted October 11, 2016
Milwaukee introduces M18 FUEL Surge
Milwaukee Tool introduced the new M18 FUEL SURGE ¼" Hex Hydraulic Driver.
---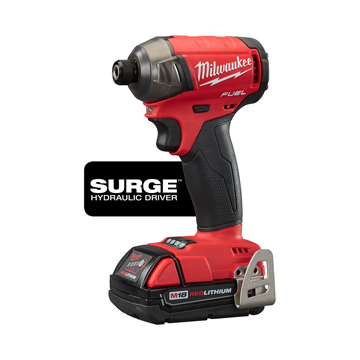 The SURGE uses a technology called FLUID-DRIVE Hydraulic Powertrain which allows it to operate 50% quieter, with 3X less vibration, and achieve longer sustained torque compared to standard impact drivers.
"Due to their versatility, compact size and high speed, impact drivers are easily one of the most prevalent tools on the jobsite, and we continue to drive innovation in this category. From the revolutionary performance delivered through M18 FUEL in 2012, to the major productivity enhancements delivered through ONE-KEY in early 2016, Milwaukee has always been on the forefront of fastening technology. We are excited to once again bring this category to the next level with SURGE," said Cole Conrad, Group Product Manager for Milwaukee Tool. "With the combination of M18 FUEL technologies and FLUID-DRIVE Hydraulic Powertrain, SURGE provides a better user experience through quieter operation and less vibration, while driving small to medium diameter fasteners equal to or faster than a standard impact driver."
The new SURGE operates 50% quieter than standard impacts, which not only makes it an excellent option for quieter work environments such as maintenance in an occupied building, it also provides inherent hearing benefits. The new tool can be used for an 8 hour day in most common applications while remaining below the Occupational Safety and Health Administration (OSHA) requirement for hearing protection.