NewAge Clearflo Ag-47 antimocrobial tubing
New from tubing manufacturer NewAge Industries is Clearflo Ag-47 antimicrobial tubing.
---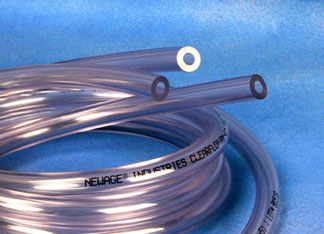 Suitable for a variety of fluid transfer applications, Clearflo Ag-47 is designed to protect liquids from harmful bacteria that can result in taste transfer, odors and illnesses. Applications that can benefit from Clearflo Ag-47's antimicrobial technology include food processing and delivery, beverage transfer (including dairy and those containing alcohol), water lines, laboratory uses, medical devices and other clean fluid transfer processes.
Clearflo Ag-47 is manufactured from a clear, flexible PVC compound that is free of phthalates. It contains a Silver Ion additive, tested in accordance with ISO 22196:2011 on over 50 different species of bacteria, to guard against microorganisms such as E. coli, listeria, salmonella, legionella, MRSA, campylobacter and pseudomonas. The Silver Ion ingredient is throughout the tubing, not only on the interior as with similar products, for bacteria protection on all tubing surfaces.
Listed by the National Sanitation Foundation (NSF-51) for food equipment materials, Clearflo Ag-47 offers antimicrobial technology that is especially effective with the infrequent use of fluids in warm conditions such as beverage and food transfer. It is REACH and RoHS compliant, made from non-toxic ingredients conforming to FDA standards and does not contain latex or animal-derived components.
The transparent tubing handles temperatures between -40°F and 125°F (-40°C and 52°C) and is stocked and immediately available in ten sizes ranging from 3/16" through 1/2" I.D.