Posted February 8, 2017
North American Tool Special Taps, Dies and Gages catalog
North American Tool Corporation announced the release of its new comprehensive 2017 Special Taps, Dies and Gages catalog.
---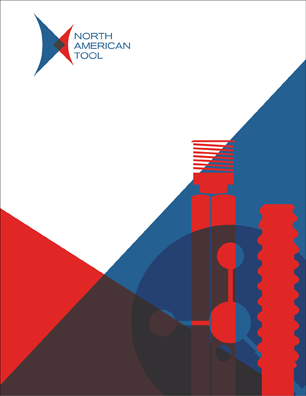 The 132-page color catalog is a complete resource guide for users of industrial tapping and threading tools.
Featuring popular special and made-to-order taps, threading dies and thread gages in an easy to read format, many of the items can be manufactured and shipped within 24 hours.
The new catalog offers a complete listing of special taps in decimal-inch and metric sizes, as well as threading dies, and thread plug/thread ring gages. Also featured in the new catalog are "Tru-Flo" thread forming taps, solid carbide taps and "Carb-I-Sert" carbide insert taps, "Cost Cutter" combination drill and tap tools, stock TiN (titanium nitride) coated taps, metric taps, pipe taps, coolant-through taps, extension taps as well as tap extensions, acme/buttress/trapezoidal taps,
PG Series conduit thread taps, DIN-dimensioned taps, STI (Screw Thread Insert) taps, oversize taps, left-hand taps, and "Smart Cut" tapping/drilling. Thread mills are also available from North American Tool.
The catalog also features a comprehensive engineering section relative to taps and threading applications. It also includes an overview of the company's mobile and Cloud Apps, including "Thread Tap Designer" (Designer.NATool.com), "Thread Tap App" (ThreadTapApp.NATool.com), and "Tap Hole Size Calculator" (available at App Stores). These apps provide an array of smart digital solutions when choosing and specifying tooling, simple quote request technology, as well as precise hole size and application recommendations.
The Special Taps, Dies and Gages Price List is available online or can be viewed using the Thread Tap App (ThreadTapApp.NATool.com).