Posted June 23, 2021
Norton Mini Angle Sanders
Saint-Gobain Abrasives offers 2-inch and 3-inch Norton Mini Angle Sanders.
---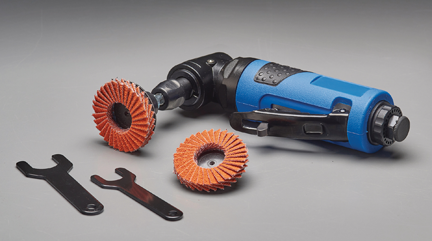 The Norton Mini Angle Sanders are small and compact, designed to get into hard-to-reach areas, and powerful enough to finish jobs fast and efficiently.
For superb concentricity, the mini angle sanders feature a double-bearing spindle, reducing vibrations and resulting in longer use and finer finishes. A speed regulator gives users exceptional control over power and precision. An ergonomic and streamlined non-slip grip offers better tool handling as well as reduced operator fatigue. Sanding and non-woven finishing disc changes can be done quickly, saving valuable time. All Norton quick-change and mini-flap discs are stocked in Best, Better and Good tiers to meet application requirements.
The Norton Mini Angle Sanders are well suited for deburring, sanding, blending and finishing applications in industries including metal fabrication, welding, transportation and aerospace. Norton Mini Angle Sanders are compatible with Norton quick-change discs and mini flap discs, and available as a 2" or 3" standalone tool or as part of a kit in a convenient carry case.