NuTrend ProWorks Gloves
NuTrend Disposables, a division of the Tranzonic Companies and a manufacturer of cleaning and protection products, expanded its ProWorks line of safety products to include a complete selection of reusable general-purpose work gloves.
---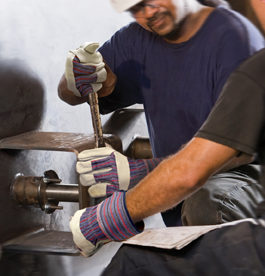 The line additions include leather drivers, leather-palm gloves, string knit gloves, jersey gloves, and more.
ProWorks is the company's offering of personal and facility safety products, including everything from protective eyewear to first aid kits. The protective glove category until now has consisted of ProWorks disposable gloves—vinyl, nitrile, latex, polyethylene—available in industrial and exam grades and a variety of weights, colors, and lengths to suit any application. The addition of general-purpose work gloves broadens the offering from simple barrier protection to a full line of abrasion-resistant and light-impact-protection products ideal for grounds and indoor maintenance as well as myriad construction and manufacturing applications.
Now distributors can source the expanded ProWorks protective glove line as part of NuTrend's diverse bundle of safety, cleaning, and protection products that when purchased together can drive substantial savings through consolidated supply.