Osborn Tornado brush
Osborn announced its new high-strength, aggressive-wire Tornado brush.
---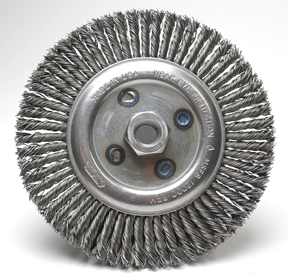 Suited for heavy-duty applications, the new Tornado brush removes slag, silicates and oxidation from Schedule 100 and Schedule 120 steel pipe. With a 7-inch diameter, the brush can penetrate into deep bevels and is the only 7-inch, knot, stringer bead brush available.
"Osborn set out to offer a brush for the toughest materials and accomplished that with this new Tornado aggressive-wire brush," said Jeff Naymik, marketing manager at Osborn. "This unique brush features wire tips that are aligned to eliminate the need for break in."