Osborn product and application lab services
Osborn's field service engineers develop problem-solving deburring solutions at Richmond, Ind. Product and Application Lab.
---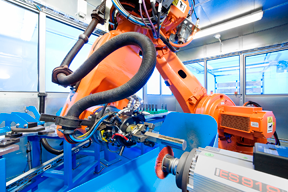 Osborn becomes a part of the product engineering process for its customers by developing solutions to improve existing processes or create new ones in the lab, or at the customer's location.
"The product and application lab allows Osborn to solve difficult deburring problems for customers, saving them the time and streamlining their processes. By inserting Osborn into the processes, our customers can find the right brush and the right solution tailored to their specific applications," said Mike Akuszewski, field application engineer at Osborn. "By working with us at the brush test lab, our customers can use our engineers' expertise to work for them and make them the hero by solving the tough deburring problems."
The Osborn lab operates as a test and competency center for the company with a state-of-the-art industrial robotic cell to perform a wide range of performance and quality tests.
To learn more about the product and application lab at Osborn and to fill out a problem form to get started, visit http://lab.osborn.com.