Posted November 20, 2019
Osborn launches attachment solution for Bosch's X-Lock System
Osborn, a manufacturer of surface treatment and finishing solutions launched its new attachment for Bosch's proprietary X-LOCK quick-mount angle grinder system at FABTECH.
---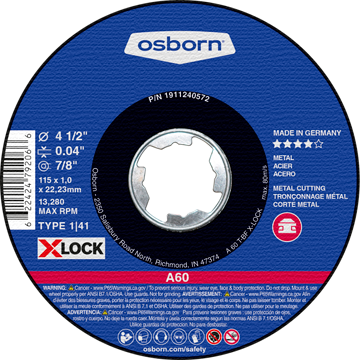 In a recent partnership with Bosch, Osborn has developed a new attachment for abrasives and brushes for the new X-LOCK angle grinder, that makes changing accessories up to 5 times faster than conventional attachments without the use of additional tools. Osborn's patent-pending X-Lock quick-mount system provides increased safety, with superior stability and vibration control.
"Osborn's new attachment has metal rings, which are sandwiched between fiberglass and bonded to the discs. Our safer application ensures maximum tool-to-accessory contact, providing the strongest center ring bond with superior stability and vibration control for operator safety," said Justin Sieb, Osborn product manager. "We're excited to launch our new attachment to provide a higher level of safety and quality, which our customers demand and deserve," he added.