Posted December 21, 2016
Osborn Needle Roller Cam Followers
Osborn introduced a line of Needle Roller Cam Followers to its Load Runners division.
---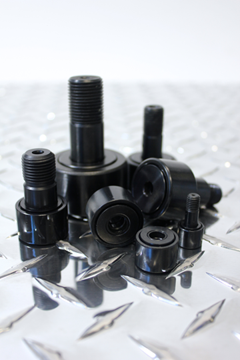 This range complements the full line of standard and customized idler roller and rail solutions that Osborn has led the market with for decades.
Osborn's 191 SKUs of Needle Rollers are available in a standard range of sizes. Needle Rollers are lightweight and because of the rollers' low sectional height, can handle high radial load capacities. Other advantages of Needle Rollers include improved mechanical efficiency from their low rotating torque, minimized inertia when the bearing is put in motion and the ability to suit many oscillating motion applications.
"With the addition of the Load Runners Needle Rollers, Osborn takes another step further in the number of solutions it is able to provide its customers," said Spencer Maheu, director of marketing and product management at Osborn. "The Needle Rollers' cost effective and lightweight design and strong radial load capacity allows machine builders to design more compact machines, saving space and costs for the manufacturers buying them."
Load Runners Needle Roller Cam Followers' product performance and specifications directly cross reference with all competitive products, so they are capable of replacing the products of other brands in an existing system. A member of both the Bearing Specialists Association and the Power Transmission Distribution Association, Load Runners is the world's leading idler-roller and rail solution, used in industries from healthcare and primary metals to automotive and general manufacturing.