Posted August 22, 2017
Underwater and Water-Ring Pelletizer Knives
In the polymer processing industry, increased production and reduced downtime of hot melt pelletizing equipment are key factors in running a successful operation.
---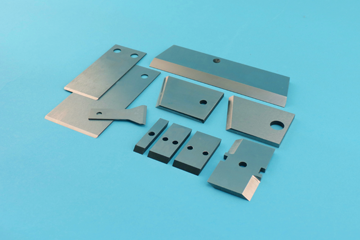 New Underwater and Water-Ring Pelletizer Knives from PDK Design & Grinding, a division of Hyde Industrial Blade Solutions (IBS), are engineered to produce consistently-shaped spherical and tear-dropped shaped pellets over extended production runs for manufacturers.
Manufactured using premium grades of M2, D2 and CPM10V steel for superior overall performance and longer-life, PDK Underwater and Water-Ring Pelletizer Knives stand up to the toughest conditions. These knives are designed for easy blade changeovers, longer running times and lower maintenance costs in hot melt pelletizing operations. All knives are manufactured in the USA under the ISO 9001 registered system to ensure consistent quality and meet or exceed OEM specifications and tolerances.
Many common sizes of PDK Underwater Pelletizer and Water-Ring Knives are available in stock for quick delivery for Beringer, BKG, Econ, Erema, Dynisco, Gala, Xaloy and other brands of underwater pelletizers. PDK can also engineer and manufacture knives for a variety of other machines.
Having recently celebrated its 140th year in business, Hyde Industrial Blade Solutions is a producer of industrial knives and blades for a wide variety of markets including food processing, cloth and textile and leather, hose and tube, tire and rubber, plastics processing, paper converting, packaging and abrasives as well as for general industrial applications. Hyde Tools Inc. is the largest manufacturer of industrial machine and hand knives and tools for remodeling, restoration, building trades and do-it-yourselfers in North America.