Posted December 13, 2016
Precision rotor and bed knives
Designed for high performance and long life for the plastics processing industry, precision Rotor and Bed Knives from PDK Design & Grinding, a division of Hyde Industrial Blade Solutions (IBS), are manufactured from a broad spectrum of materials to consistently produce high-quality plastic pellets for compounders of a variety of engineered and filled materials.
---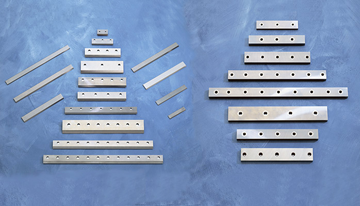 PDK excels in the engineering of extreme wear-resistant tungsten carbide strand pelletizer rotor and bed knives. Manufactured with a broad range of different materials including stellite, ceramic, CPM, stainless steel, as well as multiple grades of carbide, these Rotor and Bed Knives provide extreme wear resistance for longer periods of operation with fewer sharpenings. Knives are ground and sharpened to exacting tolerances using state-of-the-art CNC technology for an accurate and precise fit for ease in changeovers and bed knife gapping.
PDK manufactures precision rotor and bed knives providing application-driven solutions for most strand pelletizers including Accrapak, Automatik, Bay Plastics Machinery, Conair, Cumberland, Erema, Maag, Reduction, Rieter and Scheer brands, and die face knives for Gala underwater pelletizers and Beringer, Dynisco and Xaloy water ring pelletizers.
These precision rotor and bed knives range in size to accommodate 4" to 40" in cutting width and they are available in stock for most common sizes.