PFERD ceramic oxide grinding wheels
PFERD Inc. introduced its latest depressed center grinding wheels featuring an advanced ceramic oxide grain that delivers excellent stock removal rates, long service life, and cost cutting performance.
---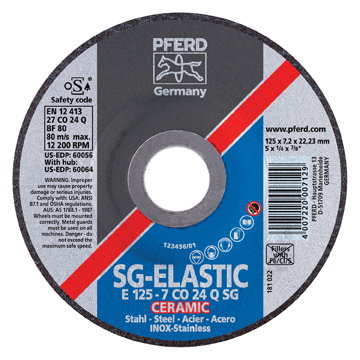 Ideally suited for working with steel and stainless steel, the new PFERD Inc. wheels, designated CO 24 Q SG, have a hardness grade Q and excel at a variety of applications, including weld grinding, chamfering, deburring, and surface grinding.
The grinding wheels achieve optimal results on high-powered angle grinders, and are available in sizes ranging from 4.5 in. dia. x ¼-in. thickness and a maximum rpm of 13,300 to 9 in. dia. x ¼-in. thickness and a maximum rpm of 6,600.
The ceramic oxide grinding wheel employs contamination-free abrasives without fillers and is rated for stainless steel (INOX).