Posted May 24, 2016
PFERD Linear Finishing Set
PFERD INC. has announced a new linear finishing set for applications including rough stock removal, surface conditioning and consistent, high-quality cosmetic finishing on all metals and hardwoods.
---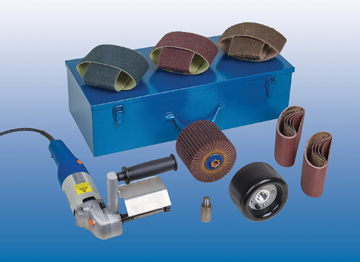 The set includes PFERD's innovative 5 in. diameter POLINOX non-woven PNZ finishing drum, featuring interleaved layers of non-woven material and abrasive cloth. This large-diameter drum provides up to 25% longer life than the standard 4 in. diameter drums.
The set also features a selection of PFERD POLIVLIES non-woven surface conditioning belts, an aluminum oxide coated abrasive belt, a pneumatic drum holder for belts and a new electric linear finishing tool. This 120V variable-speed tool features a step-less speed range of 850—3800 RPM at a power output of 900 watts. A removable keyed drive spindle also allows for mounting of wheels and drums with keyed arbor holes, as well as 5/8-11 threaded products.
Electronic speed regulation maintains constant RPM even under load. In keeping with the company's strong focus on ergonomics and safety, this power tool has restart protection in the event of power interruption, and an electrical shutdown device that deactivates the motor in case of extreme overload. It complies with ANSI B7.1-2000 standards and OSHA regulations.
The case for the system is designed to protect the power tool and consumable products during transport and field applications.