Posted June 27, 2018
POLINOX hand pads from PFERD
POLINOX hand pads from PFERD are a versatile and cost-effective answer to a wide range of grinding and cleaning needs.
---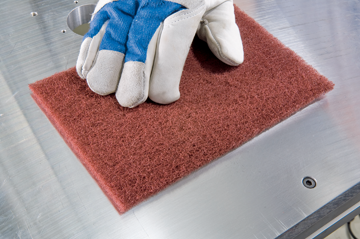 Suitable for very fine grinding on small to large surfaces and contours, and for manually cleaning metal and painted surfaces, they are highly flexible, enabling optimal adjustment to the contour of the workpiece. This allows users to access hard-to-reach areas.
The pads can achieve matte and satin-finished surfaces and can be used for wet or dry grinding. Well suited for light deburring work, corrosion removal, cleaning jobs in tool and mold-making, and fine grinding/patterning of stainless steel. Made from non-woven material with a highly open structure impregnated with either aluminum oxide A or silicon carbide SiC grain, PFERD hand pads, which can be supplied in bulk quantities, follow industry-standard color coding for easy selection.
Maroon-colored general-purpose pads are the most widely used of all hand pads. Their aluminum oxide grain is noted for its toughness and durability on tasks such as cleaning, deburring, rust removal, blending and finishing.
Green-colored pads are general purpose grade pads made with aluminum oxide. Commonly, though not exclusively, used in the food service industry, these pads are recommended for light duty and finishing applications.
Tan-colored heavy-duty pads consist of a dense aluminum oxide grain concentration on heavy backing material. Designed for the most severe applications, they are extremely durable and resist tearing and fraying. Excellent for removal of oxidation, weld cleaning, deburring, and finishing stainless steel and aluminum.
The white-colored hand pad contains no abrasive. It is used primarily for applying lubricants, detergents, polishes, etc. to almost any material. Commonly used for cleaning plastics, glass, ceramics, porcelain, chrome, copper and stainless steel.
And finally, the gray-colored pad is an ultra-fine silicon carbide pad that provides a precise, fine cutting action. Well suited for light cleaning and fine finishing on a variety of material including metal, plastic, glass and wood.