Posted November 28, 2017
PFERD POLIFAN PSF Z-TRIM flap discs
PFERD introduced the POLIFAN PSF Z-TRIM flap disc, a versatile new universal flap disc with a light weight composite backing that can be trimmed to extend service life and reduce time consuming disc changes.
---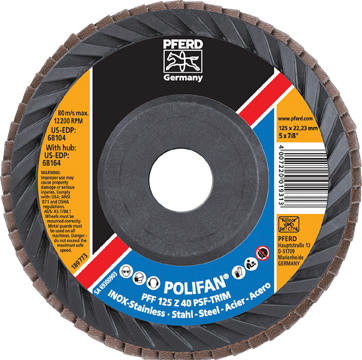 The composite backer and flap arrangement help reduce vibration and noise levels. Produced with a higher density of zirconia coated material (Zirconia alumina Z) than standard PSF flap discs, these discs provide long service life, an improved surface finish, and a soft, cushioned, contamination-free grinding effect in applications ranging from surface grinding, weld grinding, blending, chamfering, and deburring on steel and stainless steel (INOX).
Their premium zirconia self-sharpening abrasive grain produces high stock removal rates throughout the life of the disc, along with a long service life. In addition, the high-density flap arrangement, with an increased amount of coated material vs. conventional flap arrangement, facilitates reduced vibration and noise levels, along with flexible grinding action and superior results on irregular shapes. POLIFAN® PSF Z-TRIM flap discs perform on all power outputs, though high-powered angle grinders will achieve optimal results. They are available in 4 ½ in. and 5 in. diameter with either a 7/8 in. plain arbor hole, or a 5/8-11 thread for threaded spindles, in grit sizes of 40, 60, and 80. The 5/8-11 thread quick-change version is made with a zinc hub.