Posted February 26, 2018
PIP expands lineup of Safety Works respirators
Protective Industrial Products Inc. (PIP) announced the launch of its new Safety Works series of respiratory products.
---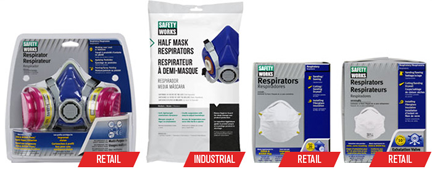 Working with a longstanding global partner, this comprehensive line expands PIP's offering to include 40 respiratory products including P100 and N100 filtering face pieces, plus half and full mask air-purifying respirators with multiple filters and cartridges.
"Expanding our respiratory line was an easy decision to make," said Robin Roberts, senior vice president of Sales, "We pride ourselves on being a one-stop-shop for PPE and this expansion only strengthens our position in that regard."
PIP soft launched the items at the World of Concrete Expo in January 2018. "Soft launching at the show made perfect sense," said Joe Milot, owner of PIP. "With OSHA beginning their enforcement of the revised respirable crystalline silica standard late last year, we knew customers at this show would be searching for new respiratory products and suppliers and we were there for them with our new line."
Respiratory protection is a fast-growing and important part of personal protection, with growing awareness of the risks related to construction work. OSHA began enforcement of the respirable crystalline silica standard on Sept. 23, 2017. This new line up of products are stocked and ready to ship in bulk and retail packaged formats.