ReCoiler by PneuPower
The pneuPower ReCoiler is designed to safeguard air hose and provide the solution to cluttered and tangled air hoses.
---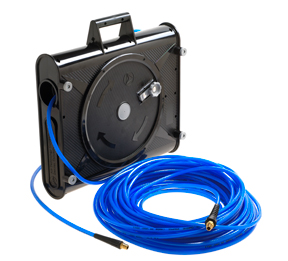 Suitable to be used with any air powered tool and especially in jobsites such as construction (i.e. framing, roofing, siding), remodeling (i.e. spray painting, flooring), automotive (PBE, trucking) and related applications.
The case is manufactured out of high-strength space age Lexan composite. The efficient briefcase modular design is lightweight with a combined weight of 9 lbs. (hose and case). It is easy to handle and fitted with a removable carrying strap.
The ReCoiler serpent air hose is manufactured and assembled with high-quality hose bend restrictors, screw-on termination couplings and advanced polyurethane material. The hose is extruded twice as an inner and outer core. The inner core is reinforced by braiding a high-strength thread around the shell. The outer core is designed for protection with small ribs to shield the inner core from micro punctures due to chafing on abrasive surfaces such as concrete or roofing material. Special attention has been devoted to reducing the serpent hose from coiling and kinking by reducing material memory.