Posted February 1, 2017
Premier Building Solutions GenX line
Premier Building Solutions announced its new GenX Product Line.
---
The next generation sealant technology offers maximum durability for use in many interior or exterior conditions.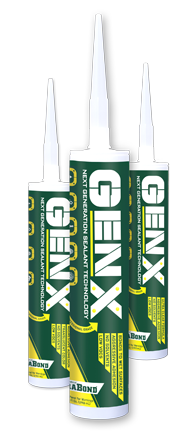 The GenX product line addresses contractor sealant needs with aggressive adhesion to the most common construction substrates, while ensuring complete compatibility – even with rubberized asphalt, flashing and other building materials. These unique features reflect extensive research and development efforts to engineer the ultimate high performance sealant technology.
GenX offers the following features & benefits:
Mildew Resistant
Flex Technology
Use for Interior and Exterior
Use for Vertical and Horizontal Surfaces
Can be applied in a wide range of temperature and weather conditions (-40° F to 140° F)
Aggressive Adhesion to Common Construction Substrates
Bonds to Wet Surfaces
Compatible with SBS Flashing
Paintable in 2 Hours
No Solvents
Low VOCs
Available in hundreds of colors
"The GenX product line was created to be the solution to every problem. Our research and development department addressed every challenge a contractor might face when engineering these products." said Derek Miller, president of Premier Building Solutions. The GenX product line will be available to distributors nationwide in February 2017.