Posted September 28, 2022
Pyramex Black Bomber Jacket
The new black Bomber Jacket (RJ3711) is part of the company's black work wear line which includes vest, T-shirt, sweatshirt, and jacket options.
---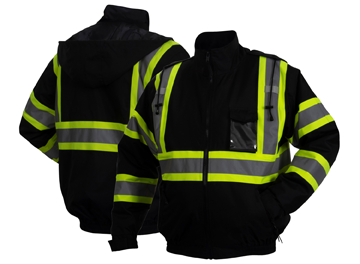 The black work wear lineup has enhanced visibility and hides dirt and stains to look newer, longer. The Type O (off-road) work wear is intended for off-road use only, often indoors or in more controlled environments.
The Performance Class 1 work wear provides the minimum amount of required materials to differentiate the wearer from visually non-complex environments. Available this fall, the Bomber Jacket is waterproof (meeting ANSI 107-2020: AATCC 127 standards) and features a polyester shell with a comfortable quilted lining, a zipper front closure, concealed drawstring hood and elastic bands at the waist and wrists. Built for functionality it also includes mic tabs, a pencil pocket, cell phone/radio chest pocket with a clear panel for a total of four outside pockets and one internal pocket.