Q.E.P. Tool Catalog
Q.E.P. Co. Inc. unveiled its newest tool catalog.
---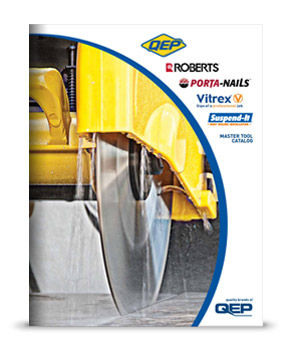 The Master Tool Catalog is a new concept for the company and includes all the tools available under the QEP umbrella, regardless of brand.
This new style catalog is divided into Installation Categories and includes all brands; QEP, Roberts, Vitrex, Porta-Nails and Suspend-It Tools. The Installation Categories include: Tile Tools, Carpet Tools, Laminate and Wood Tools, Vinyl Tools, Underlayments, Masonry, Trowels, Blades and Knives, Tape and Film, Tear-Out and Ceiling Tools. Each category is color coded for easy reference and use. Along with our new concept, several new products have been added to the catalog offering.
"As more and more customers increase their breadth of product we were finding that on sales calls our reps would have to hand out multiple catalogs on a single visit. In order to ensure that ALL of our product lines were being presented and our customers understood the wide variety of products that QEP does offer, we decided to combine all tool catalogs into one Master edition. Simplifying the shopping experience for our customers was the driving factor," said Jamie Clingan, Sr. VP Marketing.