Posted February 26, 2020
RIDGID K9-306
RIDGID has added the K9-306 to its line of FlexShaft Drain Cleaning Machines.
---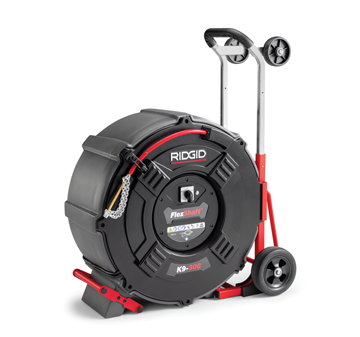 Designed to clean 3 to 6-inch diameter drain lines up to 125 feet, the K9-306 clears blockages with astonishing speed, while the ability to inspect with a camera simultaneously maximizes efficiency and lets you literally complete two jobs at once.
Purpose-built for the professional, the K9-306 quickly clears grease buildup, roots and heavy scale in larger pipes. It features a professional 1.5 HP internal universal motor for maximum power and longevity; a fully enclosed drum to minimize setup and cleanup time; and a retractable handle with multiple wheels and grab points to make loading, unloading, transporting and storage easy.
"The positive response to our first two RIDGID FlexShaft Drain Cleaning Machines last year was overwhelming, with contractors wanting a similar product to clear wider and longer lines. The RIDGID K9-306 FlexShaft Drain Cleaning Machine is the answer to that request," said Tim Dunphy, marketing director, Global Underground Technologies, RIDGID. "With the K9-306's ability to clean wider pipes and reach up to 125 feet, it lets contractors clean larger lines all the way out to the main."
The K9-306 has the highest capacity of the RIDGID FlexShaft machine models; each utilizes various chain knockers that are spun at high speeds and expand to quickly clear the entire circumference of a pipe for a more thorough and longer lasting wall-to-wall clean. The flexible, fully enclosed nylon-sheathed cable can be easily wiped clean as it is pulled from the line. It also eliminates splatter, cutting down on jobsite crosscontamination.
"Our range of plain and carbide tipped chain knockers for the K9-102 and K9-204 models have proven their worth in the field, and pros have told us how much they value the cleaning power they offer, particularly when getting into grease and scale," Dunphy said.
"When designing the K9-306, we also continued to innovate and expand our chain knocker lineup, adding a new option featuring a carbide tipped penetrating head. These new chain knockers will be available for all FlexShaft models and will help the pro more efficiently engage and clear tough full line blockages."