Posted June 7, 2017
RIDGID enhanced inspection cameras
The latest generation of RIDGID hand-held inspection cameras are purpose-built to help plumbers inspect, locate and diagnose issues faster than ever.
---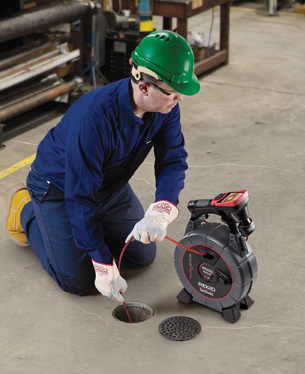 The Micro CA-150 and Micro CA-350 Inspection Cameras are for professionals working in tough environments who require the latest technology for quick jobsite feedback and project implementation.
The Micro CA-150 Inspection Camera has a large 3.5" color display for clear and fast diagnosis in tight dark spaces. Plus, the camera's internal memory can save up to 20 images that can be reviewed later, on-screen.
The Micro CA-350 Inspection Camera, now standard with a 12V rechargeable Li-Ion battery, lasts up to eight hours and takes only 45 minutes to recharge, so plumbers can perform more inspections in a shorter period of time. The camera's image rotation and digital zoom make capturing still images and videos easier.
Both cameras include a comfortable pistol grip design, LED lights to illuminate dark spaces, and large screens for easy viewing. In addition, each comes with a full lifetime warranty.
"We're continuously researching new ways to upgrade existing tools to make them even better for plumbing professionals," said James McGregor, RIDGID global marketing director. "The new features incorporated into the Micro CA-150 and Micro CA-350 provide more detailed inspections, whether that's being able to review inspection images at a later time or spend more time looking at a drain."