Posted December 4, 2017
RIDGID RP 240 compact press tool
The RIDGID RP 240 joins the RP 241 to expand RIDGID's line of smaller, lighter and stronger next generation compact press tools.
---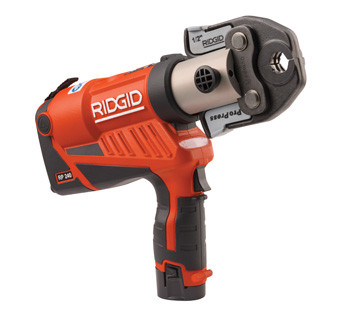 The tool is ideal for contractors accessing the tightest of spaces without sacrificing the quality of press on copper, stainless steel, black steel and PEX, the company says.
"RIDGID has nearly 20 years of leadership in pressing, starting with our ProPress in 1999," said Marcus Borman, RIDGID global marketing manager. "We're continuing to set the standard for contractors by developing products that meet their needs without compromising pressing power. Our new RP 240 and RP 241 are no exception, both purpose built smaller and lighter to maximize productivity and minimize contractor fatigue."
The RP 240 is 13 inches long and weighs only7.4 poundswith battery and jaws included, making it 15 percent smaller and 10 percent lighter over earlier models. TheRP 241 is 25 percent smaller and 10 percent lighter than its predecessor.
Both tools feature a new 12V battery platform for 140 presses per charge – more crimps than contractors need per day – and come standard with RIDGID Link to track key tool data including crimps completed, service history and more. In addition, they include a brighter LED display,180-degree head rotation, and bolt sensor to prevent tool use without proper form, helping to ensure a quality press. Each are also backed by the RIDGID Full Lifetime Warranty.