Posted February 3, 2021
Radians foam earplug dispenser
Radians recently launched a refillable foam earplug dispenser that arrives prefilled with 500 pairs of foam earplugs, can be quickly placed on a counter or wall-mounted in high-traffic areas like timecard clock-in stations.
---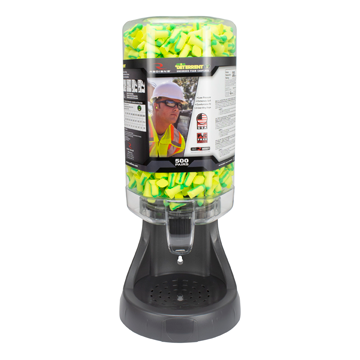 "We're very excited about our new FPD-500L earplug dispenser," said Cindy Bullion-LaWarre, senior product development specialist for Radians. "For starters, it can dispense six different styles of our Made in USA earplugs, including our new EVADER foam earplug which is 8 percent smaller than our best-selling bullet RESISTOR plug."
The FPD-500L dispenses these Radians uncorded foam earplugs: FP30, FP34, FP70, FP80, FP90, and FP94. The earplugs are manufactured with slow recovery foam in various shapes and sizes to provide a comfortable low-pressure fit in different sized ear canals. The Noise Reduction Rating (NRR) of the earplugs are either NRR 32 or NRR 33.
"Refillable foam earplug dispensers have many advantages," said Bullion-LaWarre. "They protect workers and increase hearing protection compliance, but they also reduce our carbon footprint because the plugs do not have to be pre-packaged in plastic polybags. The dispensers are refillable via economical bulk packaging at 500 pairs per box, which helps keep costs down."