Posted May 5, 2020
Radians announces new gloves and PPE vending program
Radians recently launched several new gloves and its PPE vending machine program, called VEND PACK.
---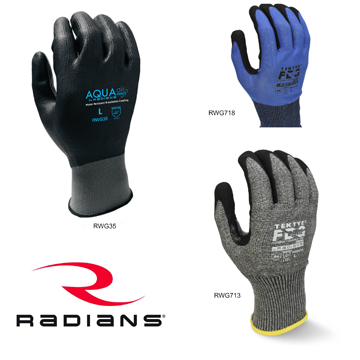 "We're excited about our new TekTye and Aqua Air hand protection lines and how they will serve the industrial workforce," said Bob Kelsey, glove product manager.
Radians' new cut protection line is called TekTye. Gloves in this line are specifically designed without fiberglass and stainless-steel fibers, offering a cut glove solution for workers whose skin and eyes are sensitive to these fibers. The new line includes two TekTye gloves with an A4 cut protection rating, the RWG713 and the RWG718. Both gloves also offer excellent dexterity with gauges of 13 and 18 respectively.
According to Kelsey, "Both gloves are engineered with Radians' proprietary FDG palm coating that really ratchets up flexibility and durability. The RWG713 has a reinforced thumb crotch for extra durability, and the RWG718 is touchscreen friendly."
Radians' other new hand protection line is called Aqua Air™. "Workers often complain about gloves that cause hot, sweaty hands. Our new RWG35 with Aqua Air technology will help nip this complaint in the bud. It has a unique water-resistant breathable coating that lets air in but keeps water out. Workers' hands stay cooler and perspire less, increasing their comfort. Plus, it has an ANSI abrasion rating of 6."
In addition to introducing new gloves, Radians is entering the PPE vending machine market where safety products can be easily dispensed and managed via workplace vending machines. For the initial phase of the PPE vending program, Radians will offer three packaging options:
1. Rubber-banded gloves for companies who avoid the use of plastic bagging
2. Folded gloves in a poly bag for cut gloves and non-cut coated gloves
3. Flat gloves in a poly bag for larger, bulkier gloves and cold weather gloves that can't be easily rubber-banded or folded