Posted May 19, 2020
Radians introduces new flame-resistant work shirt and vest
Radians recently launched a new VolCore AR/FR work shirt and a SE color-blocked surveyor vest.
---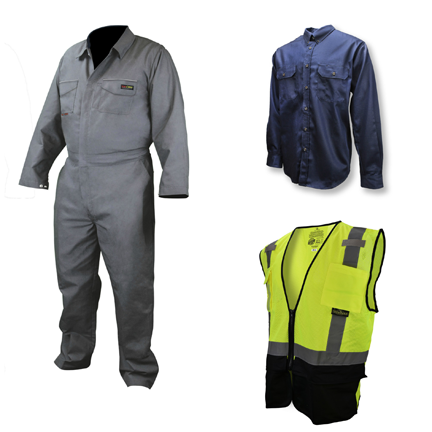 The new VolCore work shirt (Part # FRS-003) helps protect workers from short-term thermal hazards, including arc flash and flash fire. It is compliant with these industry-wide FR standards: ASTM 1506, NFPA 2112, and NFPA 70E PPE CAT 2. Because the work shirt self-extinguishes and does not melt when exposed to flame, it dramatically reduces the severity of burn injuries.
"Our new work shirt is not only compliant; it's comfortable too, which is a benefit often missing from FR workwear," said Matt McElveen, Radians product manager for AR/FR apparel. "Made with 7 ounce 100% cotton soft woven twill, the shirt isn't stiff like many FR shirts in the marketplace. It moves with the worker increasing comfort and mobility." The shirt is available in navy, gray, and khaki and sizes M-XL and tall sizes. Radians has also added the color gray to its existing line of VolCore FR long sleeve coveralls.
Another new Radians addition is the SV75B color-blocked SE surveyor vest. This Type R, Class 2 vest meets the ASTM D6413 standard and is made with 100% Self-Extinguishing treated polyester mesh, which means the vest will self-extinguish once the flame source is removed. It should not be worn where arc flash or flash fire hazards are present. For extra functionality, the vest features five pockets, including a convenient plan/tablet pocket.
"Another great feature of this SE vest is its black color-blocking on the front," said Radians Hi-Viz Manager, Nicole Novick. "Color-blocking extends the time in service of a vest as it conceals dirt and grime, presenting a more professional image on the jobsite. The color-blocking can also be used to help identify an authority figure whom workers should seek out if they have questions, concerns, or have sustained an injury. Applications for this vest include construction, asphalting, maintenance, and other dirty jobs."