Posted August 29, 2016
Radians Kevlar Lycra glove
Radians has added its first Kevlar Lycra glove, the RWG537, to its rapidly growing line of hand protection.
---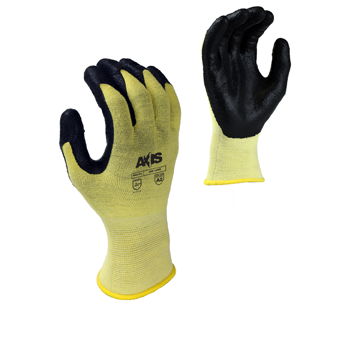 The RWG537 is a 13 gauge ASTM ANSI cut level A2 glove designed with high-tenacity composite yarns. These yellow and black Kevlar Lycra gloves combine cut protection and great tactile dexterity, so they can be used in a variety of applications, including automotive, general assembly, construction, glass cutting, and sharp parts. According to Radians new glove champion, Rick Mendoza, "Kevlar is a para-aramid synthetic fiber frequently described as being 'five times stronger than steel on an equal weight basis.'"
The nitrile palm coating provides protection from abrasion in wet or dry applications and the seamless cuff provides a comfortable fit. The RWG537 is available in sizes small to 2X-large and is sold by the dozen. A case includes 120 pairs of gloves.