Posted November 3, 2016
Radians adds embroidery capabilities
Radians recently announced that it is adding embroidery to its custom imprint program, which also includes screen printing, pad printing, and heat transfer services.
---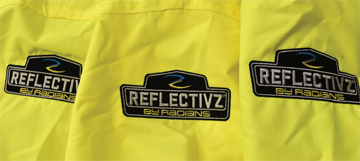 According to Jim Hink, director of marketing at Radians, "Embroidered logos are sleek, professional, and durable. They represent one of the most popular branding methods to stand out from the crowd and differentiate your brand image. Radians' in-house marketing team and graphic designers will work with you to ensure a quality embroidered or imprinted product."
With access to hundreds of colorful threads, Radians can stitch a logo or design onto select RadWear high-visibility apparel, including jackets, polos, and T-shirts made from solid fabrics. Radians state-of-the-art embroidery machines stitch up to 1,200 stitches a minute and offer up to 15 colors in any one design allowing for production efficiency, versatility, and creativity.
"Radians' Custom Imprint + Embroidery program is one of the most economical and efficient programs in the safety industry," says Radians president, Bill England. "You'd be hard-pressed to find another PPE manufacturer who can beat our low minimums, low pricing, and quick turn-around time."
Some of the Radians safety products that can be customized include high-visibility apparel, such as vests, jackets, and T-shirts, hats, safety eyewear, neck cords, neck shades, and cooling towels.