Posted November 15, 2022
Radians TEKTYE Sleeves and Gloves
Radians offers the new A4 cut level TEKTYE sleeve and two new work gloves that are suitable for PPE vending machines, which improve worker accessibility to PPE, while increasing efficiency, lowering costs, and improving inventory management and compliance.
---
RADT7418TS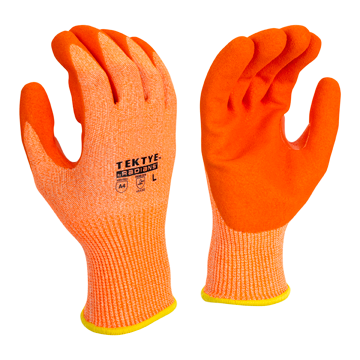 sleeve is made with proprietary TEKTYE yarn that achieves an ANSI A4 cut protection level without using fiberglass or stainless-steel fibers. The sleeve's 13-gauge yarn technology enhances mobility, and the hook and loop closure at the top of the sleeve provides a custom and secure fit.
The versatile RWG703 TEKTYE cut-protection work glove provides multi-functional hand protection solutions. It offers A4 cut protection, abrasion resistance, high-visibility, and an excellent grip in wet and dry applications, thanks to its sandy foam nitrile coating.
The RWG4742 goatskin driver with a keystone thumb is soft and strong all day long. Made for comfort and superb performance, the RWG4742 has high abrasion resistance and high tensile strength. The leather is buttery soft and pliable, but it performs like a workhorse, thanks to its tensile strength, comfort, and durability.
"At the 2022 NSC Congress and Expo in San Diego, PPE vending machines dominated many aisles," said Radians Product Manager Justin Ladd. "To support this trend, our new TEKTYE sleeve is packaged as a Vend Pack but can be used in any safety program where arms and wrists need to be protected.
"Radians already offers several gloves for PPE vending machine distribution, and now we have our new TEKTYE protection sleeve to contribute to that mix," he added. "No matter how the sleeves are dispensed, it's important to offer them because many applications like sheet metal and sharp parts handling need cut- and slash-protection for your arms and wrists."