Radians Disposable Foam Earplug Dispensers
Radians launched new patent pending Disposable Foam Earplug Dispensers that are available with the popular Made in the USA foam plugs, the Resistor and Detour.
---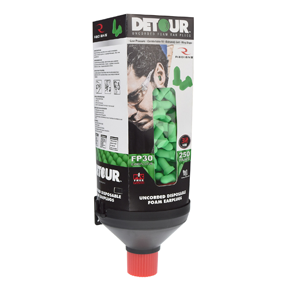 These innovative dispensers are a game-changer for workplace safety because they have several patented design features which make the dispenser easy to use, easy to refill, and easy on the environment too.
The reusable dispenser, which comes with a space-saving, slim vertical dispenser box, is easy to mount and refill. Engineered with a variable mounting bracket, the dispenser is easily installed on peg board, slat wall, wire cages, warehouse racks, and drywall, which means you can easily control placement in high traffic areas. To refill, simply remove the empty box and refill with the replacement dispenser box, which comes in quantities of either 250 or 500 foam earplugs.
The patented flexible structure of the vertical box uses less material than typical dispensers in the marketplace, making Radians' new dispenser extremely economical and gentler on the environment than traditional plastic dispensers. The patented 360° bi-directional rotating funnel provides workers with quick and easy access to the earplugs, which always helps to increase worker compliancy.
The dispensers are available in their uncorded Made in the USA Resistor plug (PDFP70) and their Detour plug (PDFP30). Both styles of disposable foam plugs have a 32NRR.