Posted March 10, 2021
REED Pump Stick
Versatile, durable REED Pump Stick with cordless power provides a portable, jobsite friendly way to remove water.
---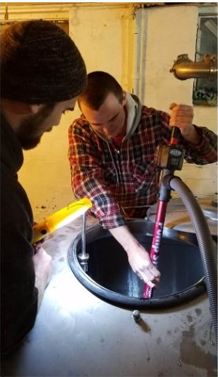 Applications for the battery-operated pump are numerous. Flooded footers and foundation work mean ground water and Pump Stick can help get nuisance water out of the way. Multiuse pump reaches and quickly moves water from all kinds of places such as pool covers and tanks. With its sturdy case, tool can be tossed into the truck. Use pump with operator's own 18V-20V battery by choosing a compatible Battery Adapter Plate.
Hard shell, aluminum main body shaft on Pump Stick outlasts the competition. For safety, the on/off switch is sealed. To protect the impeller, choose from multiple screens and strainers to fit the job. REED Pump Stick ships with a 2 foot hose but add extra length with the 4 foot and 7 foot hose extensions plus the hose coupling. Long, slim design allows operator to place the pump deep into small cavities. Pump lifts water up to 12 feet. Comfort grip handle at the top brings the pump to 4 feet long for operational ease. For extra deep reach, add the optional 24 inch comfort grip handle. Universally useful, the Pump Stick is a must-have for contractors and maintenance departments.