Posted August 31, 2017
Grab & Go with Reed Cordless Power Pipe Beveler
Reed's Cordless Power Pipe Beveler deburrs and bevels plastic pipe of 2" and larger diameter.
---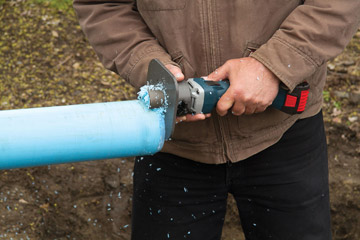 This lightweight tool creates fast, smooth bevels in the field with ease. Extremely useful on most PVC glued joints and some sizes of bell and gasket joints. Adjustable for bevel length, RBIT1 router bit evenly cuts a 15° external bevel up to 5/8" long. Add the optional RBIT2 router bit to create 12° bevels up to 1" long. To eliminate damage to the gasket, pipe bevel is required when installing into a pipe bell. Bevels on cement joints allow for even distribution of solvent cement glue to maximize glue contact area. Always defer to pipe manufacturer specifications for bevel recommendations.
For internal bevels on plastic conduit of 2" or more, electrical and utility contractors appreciate the ability to make pipe interiors snag-free. CPBIDKIT is a complete kit for ID beveling.
The Cordless Power Beveler Kit (CPBKIT) consists of the beveler attachment powered by a 22,000 RPM, 18V cordless die grinder with a 4 Amp hour Lithium-Ion battery. The grinder has more than sufficient RPMs to provide smooth cuts. The included RBIT1 cutting tool is a four flute, carbide router bit which delivers consistent, quick cuts.