Reelcraft stainless steel 1-inch hose reels
Reelcraft's hand crank HS37000 L hose reel holds 100' of 1" hose and features the superior corrosion resistance of 304L grade stainless steel.
---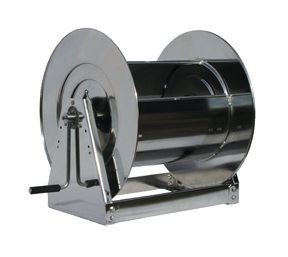 Also included are a stainless brake, welded drum, and vibration proof fasteners to insure assembly integrity. The reel is rated at 500 psi and is ideal for use in food processing, kitchens, dairies, marinas, chemical plants, mobile equipment or truck mount applications where corrosion resistance and sanitation are critical. Two motor driven models are also available with a 12 V DC explosion proof motor or a 115 V AC motor.