Posted September 12, 2017
Rex-Cut Abrasives releases new product catalog
Rex-Cut Abrasives released its 2017/2018 catalog offering metalworking industries the latest in premium grinding, blending, and deburring products.
---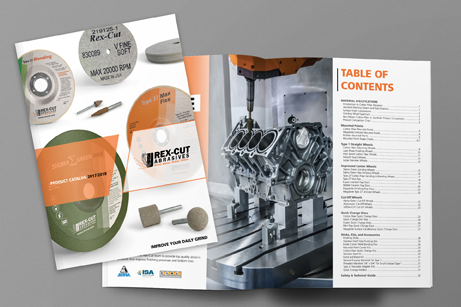 This 32-page catalog includes Rex-Cut's full line of cotton fiber abrasive products consisting of mounted points, type 1 wheels, depressed center wheels, quick change discs, and finishing sticks. Also featured are the popular Sigma Green and Sigma Green Max aggressive grinding wheels, unitized mounted points, premium flap discs, and specialized cut-off wheels.
New items in the 2017/2018 catalog include Type 1 Laser Braze Finishing Wheels, Versa-Cut Cut-Off Wheel, and Quick Change Disc Max.
This redesigned catalog is a helpful reference for engineers, fabricators, and distributors.
"With clear product specifications, recommended applications per product, and links to resources such as product demo videos, we strive to simplify the abrasive selection process," said Kate Reilly, Rex-Cut's Marketing Manager.
In addition to the printed catalog, an online version is available at www.rexcut.com. To request a printed catalog, visit www.rexcut.com/catalog.