Posted September 12, 2016
Rothenberger bending tool
ROTHENBERGER US launched the ROBEND 4000, the newest member of the ROTHENBERGER family of bending tools.
---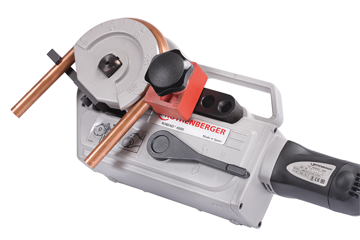 With all of the same features and benefits of its predecessor, the ROBEND 3000, this new tool offers precise cold powered bending on pipes with a larger diameter (up to 1 3/8 inch).
The ROBEND 4000 makes easy work of production bending, eliminates the purchase and storage of unnecessary fittings, and increases work safety with few joints.
ROTHENBERGER's patented ROLUB system has less friction and creates smooth, precise bends each time.
Other features include:
• Easy work preparation
• Production of repeated alternate angled bends
• High quality and robust: forged aluminum former
• Automatically shuts off when desired angle is obtained
• Strong enough for bending stainless steel