Posted June 5, 2019
Ruland modular mounting systems
Ruland Manufacturing now supplies a large selection of modular mounting components that designers can combine to make complete systems for positioning sensors, scanners, reflectors, cameras, coolant pipes, air nozzles and more.
---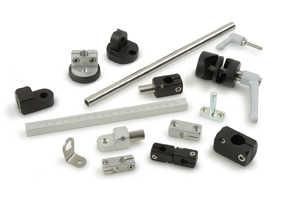 The diversity of component sizes and materials allows them to be used in many different industrial, food processing and packaging environments.
Parts that make up modular mounting systems include mounting brackets, bracket clamps, tubes, rods, tube end caps, mini-clamp tube connectors, swivel clamp tube connectors, mounting bases, portable magnet bases, clamping lever kits and adjustable spring joints. The wide range of modular mounting components enables designers to customize systems to whatever the application requires.
Ruland has simplified the selection process to offer the most streamlined user experience available in the market. Unique identifiers are assigned to all joined components that makes combining three, four, five or more components simple and time efficient. To aid in selection, Ruland has created a series of videos that walks customers through how to design a modular mounting system on ruland.com. Additionally, Ruland has prebuilt systems with stock items that users can purchase.
All parts that make up the modular mounting systems are sourced from J.W. Winco. They are the latest addition to Ruland's new line of machine components that includes CNC tool shelves, keystock, adjustable clamping levers and indexing plungers.