CoroTurn 300 with iLock interface
For longitudinal and face turning, Sandvik Coromant introduces the new CoroTurn 300 for higher component quality, increased handling efficiency and longer tool life in steel turning operations.
---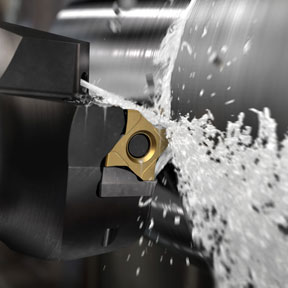 Available immediately, the CoroTurn 300 features stable insert clamping, as well as eight-edged inserts for the high chip control, tool life and surface finish.
Stable insert clamping for the CoroTurn 300 is made possible through the patented iLock interface. This system securely locks the insert in place to prevent cutting forces from affecting the tool position. iLock provides tool accuracy within ±0.05 mm (.002 inch) giving the operator indexing repeatability for a better surface finish and increased tool life.
The eight-edged inserts for the CoroTurn 300 are available in grades GC4325 and GC4315 featuring Inveio coating, a uni-directional crystal orientation for high wear resistance and long tool life. The unique insert design has excellent chip breaking capabilities and less carbide per edge, which reduces the impact on our environment with less material to waste or recycle. Plus more edges allows for better inventory control.
Another way the CoroTurn 300 offers chip breaking capabilities is through high-precision (HP) over and under coolant. Coolant from above controls the chip breaking for secure machining while under coolant controls the temperature for long and predictable tool life. Other features of the tool are the Coromant Capto interface in a variety of sizes and the Quick Start (QS) shanks which enable quick tool changes and easy coolant connections for maximized production time.
John Winter, turning product specialist for Sandvik Coromant, says, "The CoroTurn 300 integrates the latest advances in iLock, Inveio, and high-precision coolant technology to take steel turning into the next century using an insert with eight, 80 degree cutting edges. This is the perfect tool for high volume outer diameter (OD) steel turning applications where tool life and process security is a must." Application specialist for general turning, Stefan Wernh, also states, "CoroTurn 300 is designed to achieve outstanding performance in a turning process and the handling efficiency maximizes the machine utilization."