Sandvik CoroMill 425 finishing tool
Sandvik Coromant has introduced CoroMill 425, a finishing tool for the face milling of cast materials.
---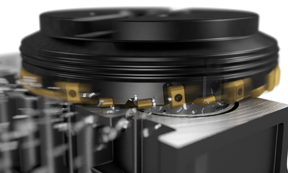 With its eight edges it is ideal for face milling components such as engine and cylinder blocks, axle housings, brake carriers and crankcases made of GCI, NCI and CGI materials. Due to its patented setting system, the tool features highly precise, reliable insert positioning that makes set-up very simple.
On the CoroMill 425, the same inserts can be used as working or as wiper inserts. The wiper inserts are mounted in cassettes on the face of the tool. The insert version with a 25° entry angle and optimized chamfer is designed to reduce breakouts and burr formation on the workpiece. A choice of wear-resistant GC1010 PVD insert grade for dry milling and K20W grade for wet milling enables especially long tool life in CGI materials.