Senco 200 PSI oil-free portable air compressor
Senco is introducing a series of 200 PSI oil-free portable air compressors to its product portfolio.
---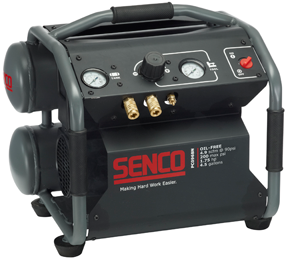 The new line includes two 4.5 gallon units, offered in either a twin-stack configuration or as a roll-away, and a high capacity 15 gallon vertical tank model.
All three units deliver up to 4.9 SCFM at 90 PSI, providing plenty of air flow and tank storage for multiple applications, including finish and trim carpentry, framing, roofing, flooring, siding, and deck building.
"These new compressors address common concerns we heard from pros in the field related to performance, durability and versatility," says Senco product manager Eric Bellman.
"The 200 PSI max operating system produces about 40 percent more usable air than a 150 PSI unit, so users can run tools longer and complete projects faster," adds Bellman. "The compressors' high-efficiency 1.75 running horsepower induction motor fills the air tank quickly, reducing recovery time."
All three compressors are equipped with dual couplers for multi-tool use, as well as a 95V start, a critical performance specification for use on jobsites that may only have a temporary electric pole or a generator.
The oil-free pump design eliminates the need for oil and regular maintenance. Users can transport and store the units horizontally or vertically without worrying about spills.
A new full roll cage design protects vital compressor components. Multiple grip points make the units easy to transport and store.