Senco RoofPro 445XP coil roofing nailer
Senco says its RoofPro 445XP coil roofing nailer is lightweight, well-balanced, speedy, easy to-load and can deliver enough power to fasten multiple materials while withstanding the rigors of everyday use.
---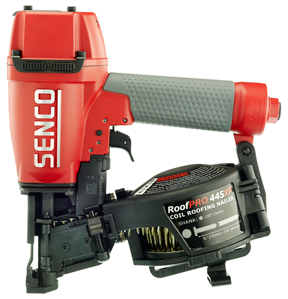 The 1-3/4" SENCO RoofPro 445XP delivers on all fronts.
SENCO's innovative firing valve and power in, power out feed system allow the tool to consume 5% less air without compromising on power or speed while delivering consistent drives comparable to standard spring-driven systems. As the tool is fired, the top portion of the firing valve moves up to seal off the exhaust of air. The RoofPro445XP can drive 12 nails per second and produces 324 inch-pound force at 100psi.
Common driver blades wear easily and have to be replaced often. The RoofPro445XP employs a bi-metal driver blade that increases longevity. When the tool has to be serviced, users can quickly and easily access all wear parts from the top of the tool. Wear plates help reduce shingle abrasion on the tool's body while the canister has a metal wear plate to mitigate friction and improve nail feed.
The aluminum housing is extremely durable and lightweight with the tool weighing in at 5.2 pounds. At 11" in height, it is compact enough for one-handed operation. The side load, single hinge makes reloading fasteners a snap.
The RoofPro 445XP is ideal for asphalt and fiberglass shingle nailing, for both new roofs and reroofing. Also, this tool can be used for attaching waterproof tar paper, metal drip edges, insulation board, and, with a special optional attachment, vinyl and aluminum siding.
Additional features include a tool-free adjustable depth of drive for consistent and controllable nail set, ¼" swivel plug, and an adjustable and completely removable shingle guide.